Dream to own car dealership comes true in Clinton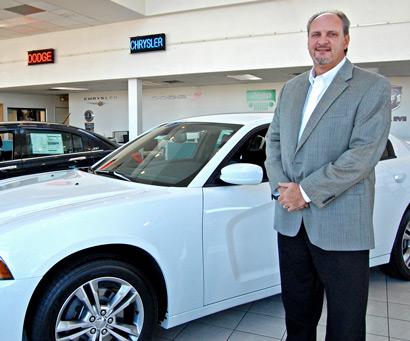 John Akens, owner of O'Hara Chrysler Dodge Jeep Ram inside the Clinton dealership on U.S. 12
John Akens did not dream of being a car salesman when he was young, but by the time he was 25 he hoped to own his own dealership one day. It took 25 years for that dream to come true, but in July, Akens became the owner of O'Hara Chrysler Dodge Jeep Ram in Clinton. For the past five and a half years he has worked closely with former owner Bill O'Hara to get to know operations, customers and staff at the dealership.
O'Hara bought the property from John Underwood and opened his dealership in 1994. Knowing he was nearing retirement, O'Hara reached out to Akens to first be a co-owner. Akens researched the reputation of O'Hara Chrysler Dodge Jeep Ram and was impressed with the loyalty of the customers, dedication of staff and quality of the cars. He agreed to bring his enthusiasm and experience to Clinton and to O'Hara.
Although Akens is now the sole owner of the dealership, Bill O'Hara continues on as a consultant and works with some of his established customers. Akens is happy to have a continuing relationship with Bill O'Hara, and has no plans to change anything with the dealership, including the name.
"I won't change the name," said Akens. "I want people to know it's the same people. It's a great family atmosphere."
Although Akens is proud of the quality of vehicles sold at O'Hara, he loves interacting with the customers more. This means he's out on the floor and is as much a car salesman as he is an owner. Akens knows his customers travel to O'Hara not because of the cars, but because the dealership focuses on customer service.
"It's so important anymore," he said. "We all sell the same cars."
There are many factors involved in a person's decision to buy a new car, and Akens accepts he cannot control gas prices, issues with the market, and other negatives. What he can and does control is providing excellent customer service. He makes sure he knows exactly what's happening in all areas of the dealership and focuses on quick response time. With the right support, Akens knows customers are more likely to return or tell family and friends.
"I don't want to sell you one car," Akens said "I want to sell you all your cars."
The service department is another source of pride for Akens. He believes it's important people have maintenance done by good mechanics in the right atmosphere. He recognizes the need for stellar customer service in every aspect of the business.
"There are so many pieces to the dealership puzzle," said Akens. "People drive an hour for a reason."
Akens credits his success to his family at O'Hara, his parents and his wife.
"She's part of the team," he said of his wife. "I wouldn't be where I am today without her support."
His work ethic is inherited from his parents. "My dad never said no to work," Akens said. "I always wanted to be like my parents."
When he first started selling cars in 1983, Aken's mother was concerned that he was dropping out of college. He told her it was only for one semester, but he thinks she knew before he did this was the job he was meant to do. She passed away this year before Akens became the sole owner of O'Hara, but he still feels her support every day.
Although friends and family questioned Akens about the wisdom of buying a dealership in this economy, he knows he made the right decision. He's proud of his accomplishments and working with such a great group of people.
"I tell people I'm the biggest dealership in the middle of nowhere," said Akens with a smile.